We are currently in the process of updating our site – thank you for your patience. If you would like immediate assistance, please contact us!
Here at Number 8, we make the world's finest Rugby Shirts.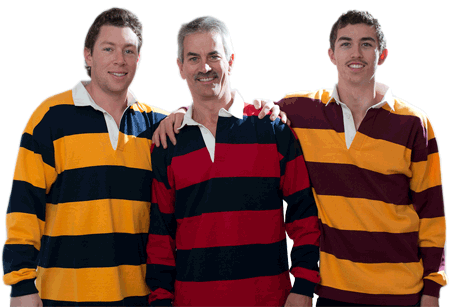 Our rugby shirts are tightly knitted from fine yarn-dyed cotton resulting in a heavyweight but very soft jersey material. Number 8 Rugby Shirts are pre-washed and pre-shrunk. Our shirts are beautiful, exceptionally well made and have long-lasting brilliant colors. Number 8 Rugby Shirts are 100% cotton and have traditional rubber buttons. Number 8 Rugby Shirts are made in America.
We guarantee that you will be pleased with your Number 8 Rugby Shirt.
"Rugby Shirt – noun. A knitted pullover sport shirt usually in bold horizontal stripes and having a white collar and neckline placket, styled after the shirts traditionally worn by the members of rugby teams." – Random House Dictionary